Impacts of Corona on 'Economy' and 'Tourism'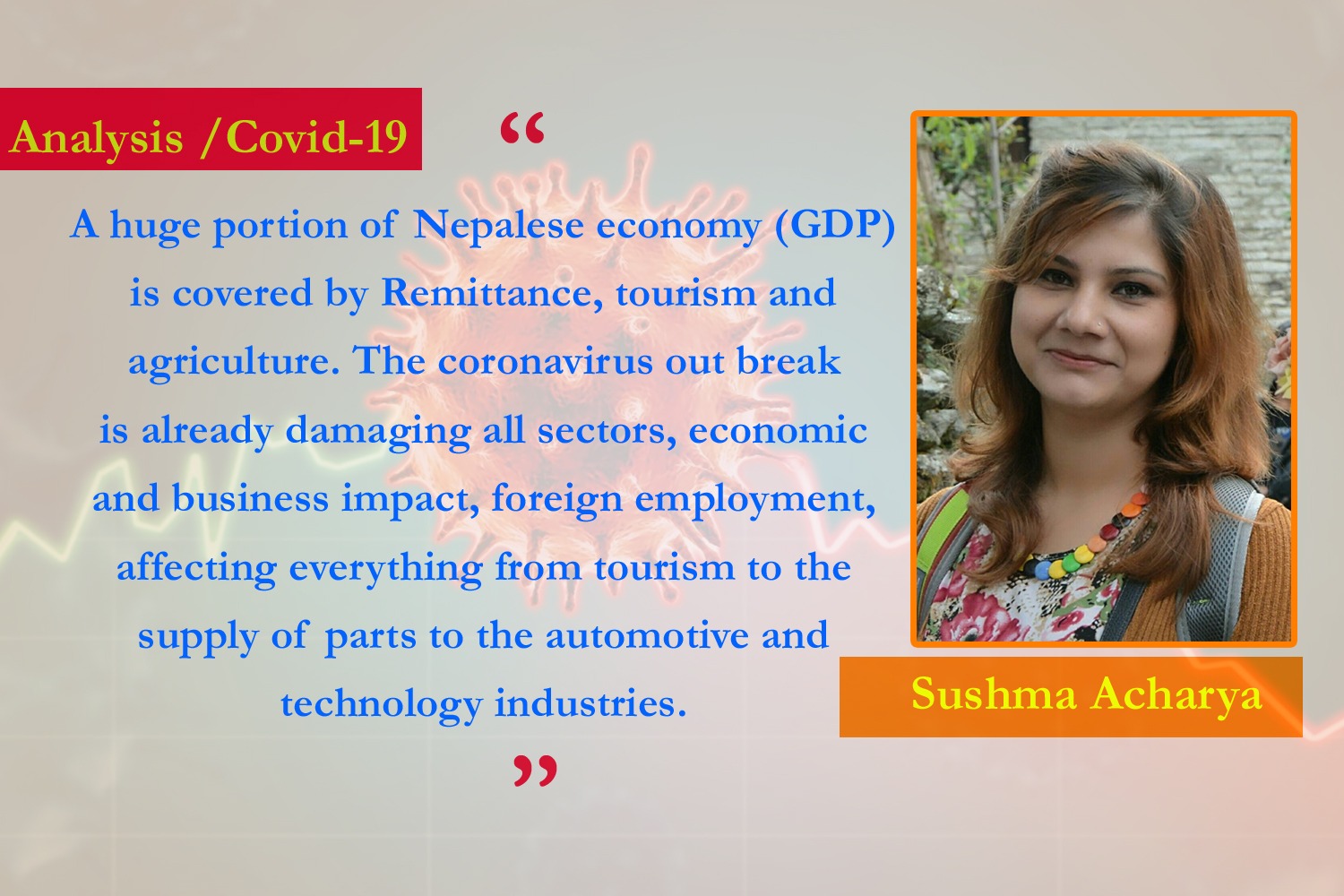 Corona Pandemics
World Health Organization (WHO) defines, "Coronavirus is a large family of viruses that cause illness ranging from a common cold to severe diseases such as Middle East Respiratory Syndrome and Severe Acute Respiratory Syndrome". Further, the common symptoms of the disease include fever, dry cough, fatigue, shortness of breath and breathing difficulties. In severe cases, the infection can cause pneumonia, severe acute respiratory syndrome, kidney failure, and even death.It is very cushy tolosebut it takestremendous efforts to regain.Certainly, COVID-19almost 210 countries around the globe are infected. The global community is racing to slow down and eventually halt the spread of COVID-19, a pandemic that has claimed thousands of lives and sickened tens of thousands of others.World Health Organization (WHO) announced it as Novel corona virus, thename of new disease on 11 February 2020. It is creating devastating consequencesonhavoc economic disaster internationally. The infected countries are facing lockdown which directly hit a high record of unemployment. People are facing problems related with the livelihood, that have hit the vulnerable people the most.
Economic hardship, bearing all kinds of burden and distressed with componentsequivalent to financial system have direct impact on economic life of people. The corona virus pandemic has stoked concerns of a global economic recession.It is believed that corona virus first emerged from a wet market- market of meat productsin Wuhan, China in December and from the beginning of this year the virusbegan on spreading rapidly in Europe,United States, Australia, South East Asia, Africa, South America and the Pacific. Now, it takes a massive shape to impact economically all over the world.WHO has issued guidance to countries, which is regularly updated to take into account the evolving situation. The guidelines include measures such as quarantine, repatriations of citizens and preparedness at workplaces.
The Organization is also working with a network of experts to coordinate regional surveillance efforts, epidemiology, modelling, diagnostics, clinical care and treatment, and other ways to identify, manage the disease and limit widespread transmission.The first case of the 2019–20 coronavirus pandemic, in Nepal was reported on 24 January 2020 in Kathmandu. The patient showed mild symptoms and had been discharged a week earlier with instructions to self-quarantine at home; he was subsequently confirmed to have completely recovered.Recommended preventive measures include hand washing, covering one's mouth when coughing, maintaining distance from other people, and monitoring and self-isolation for people who suspect they are infected.
The United States, the world's largest economy, is almost certainly in a recession. So is Europe. So probably are significant economies like Canada, Japan, South Korea, Singapore, Brazil, Argentina and Mexico. China, the world's second-largest economy, is expected to grow by only 2 percent this year, according to TS Lombard, the research firm.
Global Economy
America is assumed as the country of possibility and opportunity. Most of the middle class People of the world believe that,it has every solution of each and every problem, but failed to fight against the Corona virus. On the other hand, China is the fastest growing economy which has important rolein world in future economic civilization. It has tremendous contribution in world's economy, however the situation on the pandemic is not properly controlled. According toUN official statistics thereare 44 countries in Europe which are taken as developed countries. South Americaisalso virtuous although having all advanced mechanism and lifestyles they couldnot unobtainable from this disease.The United States has more than three times as many confirmed cases of COVID- 19 as any other country.
Corona virus is taking as great issue that America and China are blaming each other for this illness. Truth is whatever, but massive crisis arises due to this situation which manifests a long run troubleto global economy and its impact effect to all over the world's economy. This situation could not have biased Nepalese economy too. India also facing second announcement of lockdownat the first announcement they had predict due to this hazard and 21 days' lockdown they are going 21years back in economy.Countries reliant on tourism, travel, hospitality, and entertainment for their growth are experiencing particularly large disruptions.
This overall situation gives evidence and endorsement, epidemicsdoes notdifferentiate the people and country according to theirpotential. But only there are huge variances of updated mechanism which help to heal this disease rapidly and securely. China and other developed countries are the greatest example of it whom cured and reduced suffering and mortality ratio frequently.The monetary and fiscal policy response has, in many ways, been larger and more rapid than in the midst of the global financial crisis. In addition to interest rate cuts, central bank balance sheets are expanding at a break-neck pace as they flood the financial system with liquidity to mitigate the risk of sharp adverse credit multipliers.
This is not the first time, the record manifest in every century this type of epidemics happened and millions people died. These zoonotic diseases are linked to environmental change and human behavior. These conditions clearly demonstrate the procedure of nature gives the consciousness to balance human lifestyles, human eating habits, and living standard, to preserve natural resources including animals and reduce global warming.For the first time since the Great Depression both advanced economies and emerging market and developing economies are in recession.
Nepalese Economy
The pandemic is above all a public health in emergency. So long as human interaction remains dangerous, business cannot responsibly return to normal. Nepal is under privilege country directly and indirectly depends upon other developed countries. All daily needed stuffslike foods, electronics, electrical,transportation even fruits and vegetables are importedal though Nepal is known for an agricultural country. America facing higher mortality rate although having excellent quality health services. If diseases highly spread in Nepal, it cannot be said that such horrendous situation will not come due to low quality health content, governmental inadequate physical infrastructure, poor forecasting and unplanned situations.While the economy is shut down, policymakers will need to ensure that people are able to meet their needs and that businesses can pick up once the acute phases of the pandemic pass.
Nepal is a landlocked country with China in the northern side and India in the east, west and south. Nepal shares a 1,414 kilometers that is 879 miles' border with China's autonomous region of Tibet, in the Himalayas. China is Nepal's second-largest trading partner of Nepal. Nepal has an 1,800-km open border with India in the east, west and south. Nepal lies in South Asia, one of the least developed and most densely populated world regions, that performs poorly in education as well as health care and sanitation metrics, and is therefore considered one of the highest risk areas for the pandemic, and also one of the least prepared. Open boarder with India is very dangerous that must be closed for ever because among 42 cases 16 are Indian Nationals. Luckily till the date, Nepal is not in high risk of this disease. Wecaneasily count infected in fingers. Country already facing forth announcement of lockdown but this is not the treatment it only helps to reduce the possibility of spreading. The solution is to recognize infected people frequently and starts to treatment but in this case government is showing effective exertion on it.
A huge portion of Nepaleseeconomy (GDP) iscovered by Remittance, tourism and agriculture. The coronavirus outbreak is already damaging all sectors, economic and business impact, foreign employment, affecting everything from tourism to the supply of parts to the automotive and technology industries. Stock markets have been volatile.Economy is struggling andfacing the economic challenges. The economic downturn is expected to be worst, finance is hardest hit centre. For some year it is going negative recession and it may create global financial crisis. Many Nepali households are dependent on remittance for their daily consumption needs and Nepali banks rely on remittance to grow their deposits, which will enable them to lend to businesses. A possible downturn in remittance could thus have a severe impact on overall consumption in the country, according to economists.
"To get something we have to lose something".Due to this pandemic situation Nature is being hygienic. Satellites have detected a significant decrease in the concentration of a common air pollutant, nitrogen dioxide, carbon dioxide which enters the atmosphere through emissions from cars, trucks, buses, and power plants. Transportation creates more than half of pollution impacts on global warming which directly affect every organ system in the human body as well as animal body which creates these types of viruses.Air, land, sound and water pollution has started to fall down so dramatically in response to lockdown measures. Data shows many countries are recording much lower level of harmful microscopic particulate sudden decreased and the subsequent blues skies signaling a perceptible shift. While the crisis has led to a temporary decline in global carbon dioxide emissions it decreases the global warming. This is experiencing an unprecedented pause in ocean noise, that probably hasn't experienced in decades. This is helping to boost the fresh air, fresh water as well as soil quality.
Many times since the time immemorial, we already encountered with these types of epidemics. In 2015, massive earthquake disaster happened, due to this destruction,more than 8000 people died. Insignificant infrastructure damaged,agriculture and tourism top income generators were set back by quake.
Nepalese Tourism
According to research carried out for the new report, as of 6 April, 96% of all worldwide destinations have introduced travel restrictions in response to the pandemic. With tourism suspended, the benefits the sector brings are under threat: millions of jobs could be lost, and progress made in the fields of equality and sustainable economic growth could be rolled back. The direct impact can be observed in Nepal as well.
With a major target of 2 million tourists arriving in Visit Nepal 2020, the expectation of tourism development and success was very high with all positive factors, has been postponed is the major impact. On the other side, Nepal is rich innatural and cultural diversities. Its geographyfeaturesclimate, culture, traditions and the strong and unique flavors of Nepalese cuisine, prepared with love and a depth of flavor or joins in and celebrates at one of the many festivals year round. Wonderful facts and realities in lifestyles, wearing cloths and Natural productslike world highest pick Mount Everest, birth place of Gautama Buddha, cultural heritages,lakes,rivers,national parks etc. are only example. There are multitudinous products in Nepal but couldnot be utilizing for fascinating as an economic product from the government due to worst and corruptedpolitical nature.In this 2020 Nepal has set on celebrating tourism year. Tourism is one of the main stream source of Nepalese economy. As we all know,Nepal is surrounded by two giant countries India and China. It also taken as bridge state and realized that trilateral co-operation equally beneficial to all three countries but in this epidemics wecouldnot stop to scatter the disease due to open boarders and linked borders. This might have created the huge hurdle to Nepal.It has been stated that tourism industry contributed to a total of 7.9% of the GDP of Nepal in the same year, which shows the significance of tourism in Nepal. Due to pandemic situations it has postponed for 2022. Tourism sector is braced to take a big hitone of the worst-affected industries worldwide, as cross-border travel is halted to control the spread of the virus. Agricultural products are being destructing in field more than 2 Arab's dairy products are being waste due to this lockdown.
Finally
Governments all over the world have taken unprecedented action to fight the pandemic—to save lives, to protect their societies and economies.Physically, mentally and economic damage happened at that time but we recovered. "Every problem has its solution"We all should have to patiently obey the governmental rules and regulations for self security which help to reduce to spread disease and for overcome the problems. If we can start production activities from national available and possible raw contents, promote agricultural production and dairy products supply which would help a huge collaboration on development. But at the time of this types of epidemics we would not depend to others for livelihood, which creates massive contribution to national economy.Exceptional times call for exceptional action. "We fall, we fail and we break. Then, we rise. We heal and we overcome." Like every time, we will.
0 प्रतिक्रिया